Thanks for making us #1 on Purevolume!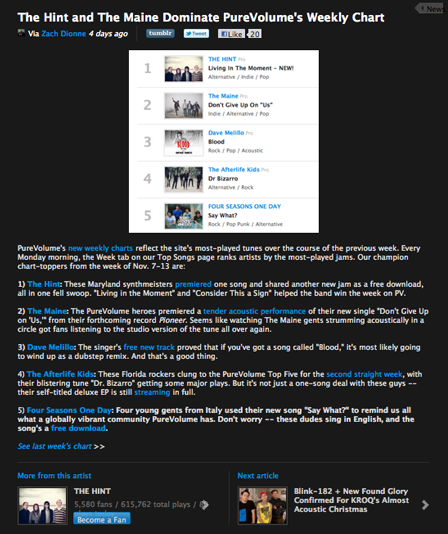 (click to enlarge)
From the latest recordings:
This year brings unexpected new changes for The Hint, including the addition of Tessa Marr on vocals and keyboards, as well as experimentation with electronic-acoustic drum hybrids. Now a brother-sister vocal combo, the band hosts the jagged and inventive guitar work of Tim Foltyn and his distinctive electronic layering. The songs center on the groove and bass work of British-born Geoffrey Blake and chief songwriter Joe Jayson, both students of Brit-pop and the reason The Hint has toured both the US and the UK. Back from their trip to Boston, Massachusetts, to record the band's latest work, The Hint released each new song one-by-one starting with the first single "Consider This A Sign".