"Karma police, arrest this man, he talks in maths."
– Radiohead.
We are happy to announce our new song "+1 -1" will be out April 1. Listen to a clip of it at the end of this video.
Two weeks!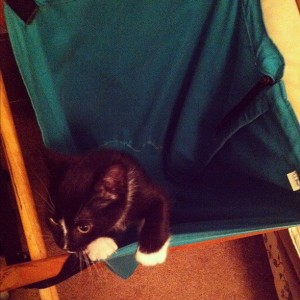 GB's kitten in a basket* (click to enlarge)
UPDATE: DC-101 aired "Western" on the radio twice, we gained an hour of sunlight, the tree blossoms are everywhere, and I feel the opposite of rage-quitting with all the big things coming up. Good week!
UPDATE 2: (03/23/12) "Western" spins again on the radio and we're a week away from the release of the brand new song "+1 -1". A friend of ours in Los Angeles has already remixed the new song and that version will be coming to you soon after the official release April 1st.
SONG LEAK (04/01/12) – Today is the day. Song day. Listen here – https://thehint.com/l0ti